What Is A Blepharoplasty?
Drooping or hooded eyelids can make a person look tired or even sad, just as puffy bags under the eyes can make you look significantly older. These issues can be treated surgically with a Blepharoplasty, also referred to as an Eyelift.
An Upper Plepharoplasty addresses upper eyelids, while a Lower Blepharoplasty will address the bags under the eyes.  Dr. Henry Wells or Dr. Sara Soni-Kalma may recommend a combination of both treatments if needed for optimal correction.
Be sure to view our Before and After Photo Gallery of Blepharoplasty to see real patient results at Wells Plastic Surgery.
What Are The Benefits Of Eyelid Surgery?
Removal of excess skin from upper eyelids: With extremely hooded upper eyelids, you may be able to see better when obstructing overhanging skin is removed.
Reduced puffiness in lower eyelids: You will look more rested when bags under your eyes are gone.
Younger, fresher appearance: A Blepharoplasty physically removes signs of aging, so you can face the world looking like your old (or young!) self.
Improved confidence: When you look better, you will feel better and the people around you will see it.
While some patients require both Upper and Lower Blepharoplasty surgery, others may need just one procedure.
Upper Bleph – Reduces drooping eyelids by removing excess skin and possibly some fat from the upper eyelids to rejuvenate the upper eyelids.  This will make your eyes appear more open and you will appear more rested and alert.
Lower Bleph – Lower Blepharoplasty can reshape the lower lid to reduce puffiness. The bags of excess fat under the eyes are what can make you look older and more tired*.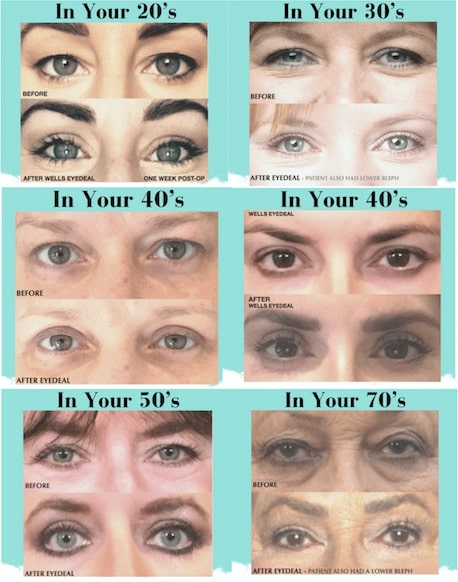 Blepharoplasty Before & After Photos
The Blepharoplasty Procedure
The Surgery: The procedure is done in our QuadA in-office surgery center on an outpatient basis and typically lasts between one and three hours.
Recovery: The stitches from the procedure are removed after about three days at your follow-up appointment.*
Resuming Activities: It generally will take a week before makeup can be applied and you can return to work.  With an Upper Blepharoplasty, you can apply makeup after three days and return to work.*
Read what our patients are saying!
Dr. Wells and his team have shown outstanding care and results through my whole process of surgery and skin care. I am very pleased I have chosen Wells Plastic Surgery for the services I had done. They were always there for me, too, if I needed anything at all. I am one happy patient.
Click here to read more reviews.
Who Isn't A Candidate For Blepharoplasty? Complications?
When performed by a qualified Plastic Surgeon, Blepharoplasty complications are uncommon or very minor.  Always check with your Ophthalmologist or family doctor before undergoing this procedure.
There are some medical conditions that may preclude someone from being a candidate for Blepharoplasty including:
Dry eyes
High blood pressure
Heart disease
Neurotoxins used within three months of your procedure
Schedule Your Consultation Today!
Dr. Henry Wells is a member of the American Society of Plastic Surgeons and the staff at Wells Plastic Surgery center serving the Lexington and Louisville areas, can help open the eyes to a new look, while not only enhancing a person's appearance but by providing them with a new mental outlook as well.
Everyone's result will be different.  It is important to meet with Dr. Wells or Dr. Soni-Kalma and their staff before having this procedure, in order to understand what to expect and what outcome can be anticipated. Your surgical team can help you from preparing for the surgery to recovery and follow-up. Going into this type of operation knowing what to expect will help ease any anxiety during your recovery period.
Call 859.255.6649 to schedule your consultation today! Our practice serves Lexington, KY & all nearby areas. *Individual results and experience may vary